Repeat Prescriptions
We have a computerised repeat prescription service. Repeat prescriptions are normally for patients with long-term conditions who receive regular treatment. Your doctor will decide who can have a repeat prescription.
You can request a repeat prescription by calling the Medicines Order Line number 01246 588860 or the NHSApp.
Alternatively you may register for our online services and order via the link at the top of this page.
We do not take repeat prescription requests over the telephone – this is for accuracy reasons.
Please allow at least 48 hours before collection at the pharmacy (of your choice).
Medication Reviews
From time to time we will ask you to see your doctor or General Practice Pharmacist to review your medication. This is usually an annual medication review however, depending on the number of items on your repeat script, you may be called 6 monthly. We do this to monitor your illness and medication.
Prescription Fees
Help with NHS costs
In England, around 90% of prescription items are dispensed free. This includes exemptions from charging for those on low incomes, such as:
those on specific benefits or through the NHS Low Income Scheme
those who are age exempt
those with certain medical conditions
More information is available at NHS Choices
NHS Charges
These charges apply in England only. In Northern Ireland, Scotland and Wales prescriptions are free of charge.
Prescription (per item): £9.35
12-month prepayment certificate (PPC): £108.10
3-month PPC: £30.25
If you will have to pay for four or more prescription items in three months or more than 14 items in 12 months, you may find it cheaper to buy a PPC.
Telephone advice and order line 0845 850 0030
General Public - Buy or Renew a PPC On-line
There is further information about prescription exemptions and fees on the NHS website.
The NHS App
Wingerworth Medical Centre would like to invite you to use the NHS App
The new, simple and secure way to access a range of NHS services on your smartphone or tablet.
You can now use the NHS App to submit an eConsult. By using the App your personal information will be automatically filled in, so you don't need to do this for each eConsult.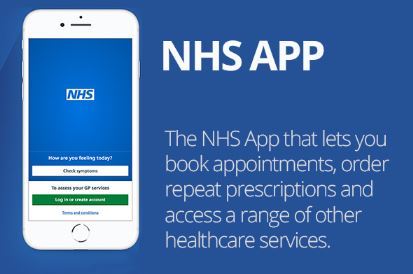 The Medicines Order Line (MOL) 01246 588 860
Open between 8am and 4pm Monday to Friday (excluding Bank Holidays).
If you would like more information Click Here
Request a callback to order your prescription - As a result of the current situation with Coronavirus the MOL is receiving a very high volume of calls. To save you from waiting they have introduced a call back system which you can request by sending an email to the Medicines Order Line inbox. To do this, follow the easy steps to below:
Email the MOL at ddccg.northMOLonlinerequests@nhs.net and ensure you include the following information:
The name of your GP practice

Your name AND date of birth

Your contact telephone number

Press send
Please note that no responses will be provided via email as the purpose of email is to request a call back only. The MOL expect to be able to call you back within 48 hours (excluding Saturdays and Sundays) but that may vary according to the volume of enquiries they are processing. They will attempt to call you back three times only. Please keep your phone with you at all times. It is also important to note that by providing the MOL with your email and details you are giving us permission to share your details with other NHS organisations who may also have to share your information so that we can complete your request. The CCG accepts no responsibility for the incoming transfer of information.